Supporting you through your whole journey to recovery.
PeerWell is a complete solution that helps you reduce pain, increase mobility and live a more full life.
10-15 minutes
of daily bite-sized tasks for you.
Accessible
on the device you already own.
Customized
programs for your faster recovery.
PeerWell's "Five Pillars of Health" helps you with...
Physical therapy
Improve strength & mobility to get you back to "you".
Nutrition
Eat better to kickstart recovery.
Health literacy
Know what to expect with your condition.
Pain & wellness
Control pain while reducing stress & anxiety.
Life management
Prepare for everything life throws at you during recovery.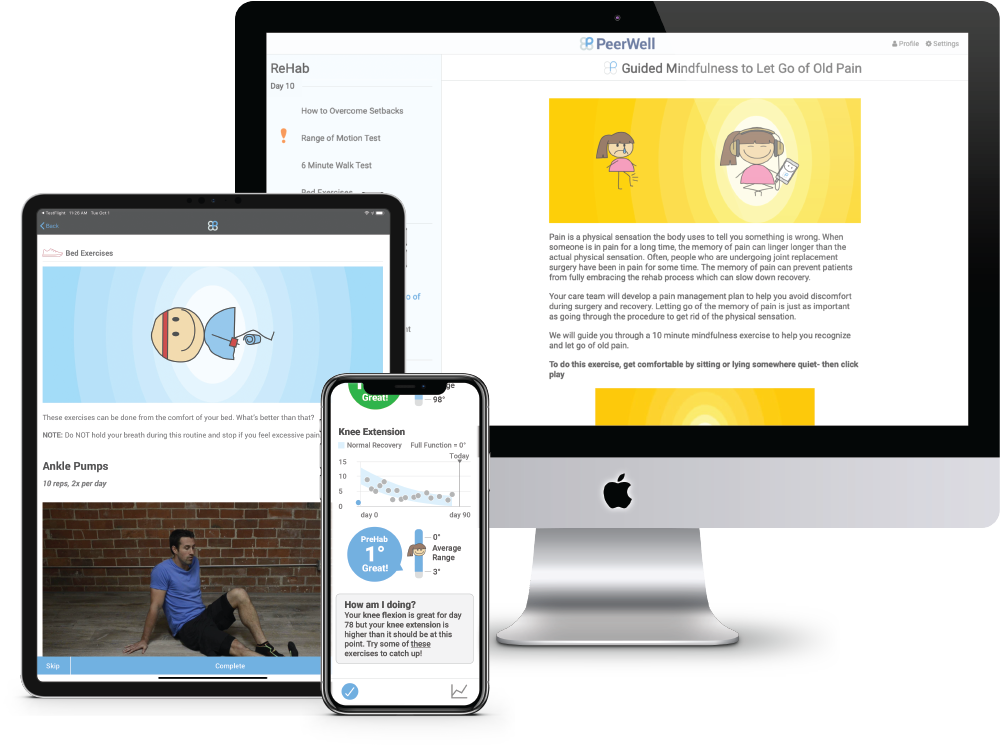 What people like you are saying
"I continue to be impressed with the apps thoroughness and holistic approach. I'm doing really well in my recovery and I have PeerWell to share in that victory."
"Each day I check for my PeerWell things to do with eagerness. By watching and doing the video exercises, I am walking better on my surgical knee...I feel this is an awesome program and look forward to what is expected of me every day."
"I just want to be in the absolute best shape I can be before the surgery. I'm in a lot of pain and physically, I can't do very much at all. I can do the exercises in the PeerWell app and it makes me feel like I'm keeping myself as strong as possible."
Getting started is easy
Haven't been referred to PeerWell?
PeerWell is a REFERRAL BASED application. If a professional hasn't referred you, you can see if you qualify on your own below.
Already referred to PeerWell?
Have already been referred to PeerWell by one of your healthcare professionals or a case manager? Get started improving your health now!
Need some help?
Not sure what you should be doing? Have some feedback or suggestions. Anything you need help with at all!